COSWORTH CA SPARK PLUG
Cosworth Spark Plug from the CA Formula 1 Engine used by Williams, Lotus, HRT, Virgin and Marussia.
GEAR RATIO CLOCK
Stylish F1 Gear Ratio Clock, individually hand crafted. Complete with perspex stand.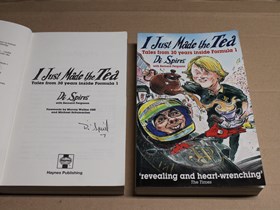 SIGNED BOOK - I JUST MADE THE TEA
"I've just made the Tea" by Di Spires, paperback edition which has been hand signed by the author.
Condition: NEW
This memoir of Di Spires looks at Formula 1 …
DISPLAY ITEMS | FRAMED PRESENTATIONS