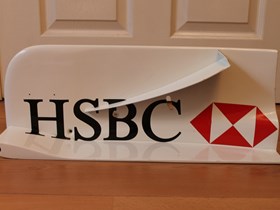 2001 FRONT WING END PLATE
Jaguar R2 Front Wing End Plate, from the 2001 Formula 1 car, as driven by Eddie Irvine, Luciano Burti and Pedro De La Rosa.
2000 REAR WING SUPPORT (DAMGED)
Jordan Rear Wing Support (Damaged), From the 2000 F1 car driven by Heinz-Harold Fretzen and Jarno Trulli.
SUPER AGURI 2006 1/3 BARGE BOARD SET
Super Aguri 1/3 Wind Tunnel Model Barge Board SET, from the 2006 car.
Size: L40xH16xW9 Each 
CLASSIC F1 | WIND TUNNEL MODEL